We Are Coronavirus Cleaning Services and Biohazard Experts
8/30/2021 (Permalink)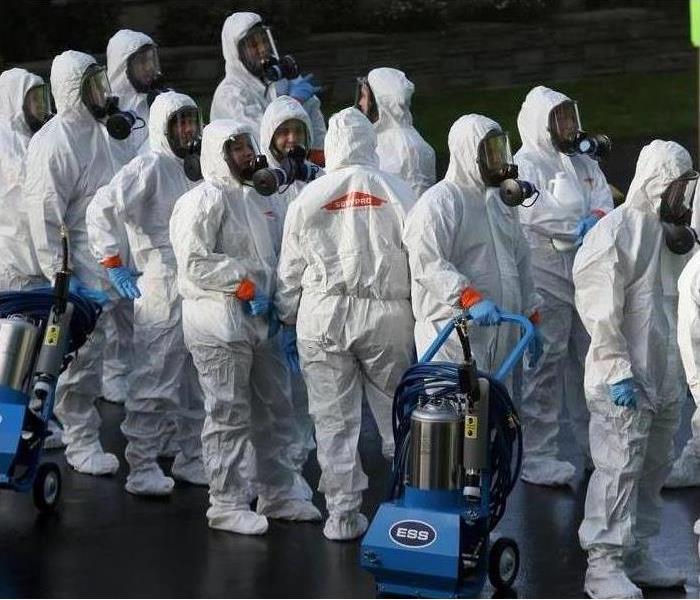 SERVPRO professionals are uniquely prepared during this unprecedented time to clean and sanitize your business.
CLEAN AND SANITIZE
According to the CDC, COVID -19 can survive on certain types of surfaces, such as plastic and stainless steel, for 2-3 days. People can become infected with the virus by touching surfaces or objects contaminated with the virus, and then touching their mouths, noses, or eyes. Two processes need to be followed in order to minimize the risk of exposure:
Cleaning refers to the removal of dirt and impurities from surfaces. Cleaning alone does not kill germs, but it decreases the risk of spreading infection. It is recommended to clean all frequently touched surfaces in the workplace, such as workstations, keyboards, telephones, handrails, and doorknobs.
Sanitizing is the use of chemicals to reduce germs on surfaces. By reducing germs on a surface after cleaning, you can further lower the risk of spreading infection. Using EPA registered disinfectants is an important part of reducing the risk of exposure to COVID-19.
SERVPRO of North Laredo professionals are uniquely prepared during this unprecedented time to clean and sanitize your business using EPA registered disinfectants according to the protocols set forth by the CDC. We offer a level of clean that goes way beyond janitorial or carpet cleaning; we offer a proactive viral pathogen cleaning.
USE EPA REGISTERED PRODUCTS ONLY
According to the EPA statements, consumers should beware of imposter disinfectant products that are being marketed with potentially dangerous claims of protection against the novel coronavirus.
The EPA has warned against companies that are trying to take advantage of this pandemic by offering fraudulent products and/or cleaning services, and claim to use products that have anti-viral, antibacterial, disinfectant, sterilizing, or sanitizing properties.
If you are not sure the products being used are EPA registered, you can ask for their SDS (safety data sheets). If none are provided or offered, then the product is not registered.
EPA registered products are evaluated to ensure they achieve the intended functions, e.g., disinfection, while preventing unreasonable adverse health and environmental consequences.
Not using EPA registered products, and/or mixing the wrong chemicals can cause fumes that may be very dangerous to breathe in.
Certified: SERVPRO Cleaned
At SERVPRO of North Laredo, we make sure to use only EPA registered products. We're dedicated to inspiring confidence in communities across the country as we find our way to a new normal.
"Certified: SERVPRO Cleaned", our new defensive pathogen cleaning program, goes way beyond standard janitorial cleaning practices. We are proactively conducting viral pathogen sanitizing. With over 50 years of experience in biochemical spill remediation and decontamination, you can trust SERVPRO of North Laredo Professionals to bring a higher standard of clean to the places we gather.
IICRC certified firm: SERVPRO of North Laredo is an IICRC certified firm (certification awarded by the Institute of Inspection Cleaning and Restoration).
OSHA certified: All of our employees have completed the OSHA 10 hours safety course as well as the OSHA Bloodborne Pathogen in the Work Place course to ensure all necessary safeguards are followed.
PPE: when we conduct a COVID sanitizing job, we make sure we use personal protective equipment (PPE) at all times, such as protective clothing, helmets, goggles, and/or other garments or equipment designed to protect the wearer's body from injury or infection, depending on the scope of the job.
UVL fogging machines: we use equipment such as ultra-low volume (ULV) fogging machines, which are cold fogging machines that use large volumes of air at low pressures to transform liquid into droplets that are dispersed into the atmosphere. ULV machines are typically used to apply sterilizers and disinfectants amongst other chemicals.
Electrostatic sprayers: Electrostatic spray surface cleaning is the process of spraying an electrostatically charged mist onto surfaces and objects. Electrostatic spray uses a specialized solution that is combined with air and atomized by an electrode inside the sprayer. Subsequently, the spray contains positively charged particles that are able to aggressively adhere to surfaces and objects. Because the particles in the spray are positively charged, they cling to and coat any surface they're aimed at. After the spray is applied, the sanitizing agent works to disinfect the covered surfaces. For this reason, electrostatic spray is an excellent solution for germ and contaminant ridden areas.
At SERVPRO of North Laredo it is our duty, not our job, to inspire confidence by ensuring your business is Certified: SERVPRO Cleaned, making community possible again. We're here to help—24 hours a day, seven days a week—until life is back to normal in the community we call home.